WGAL Article: Hispanic Heritage Month/Salsa Dancing in Lancaster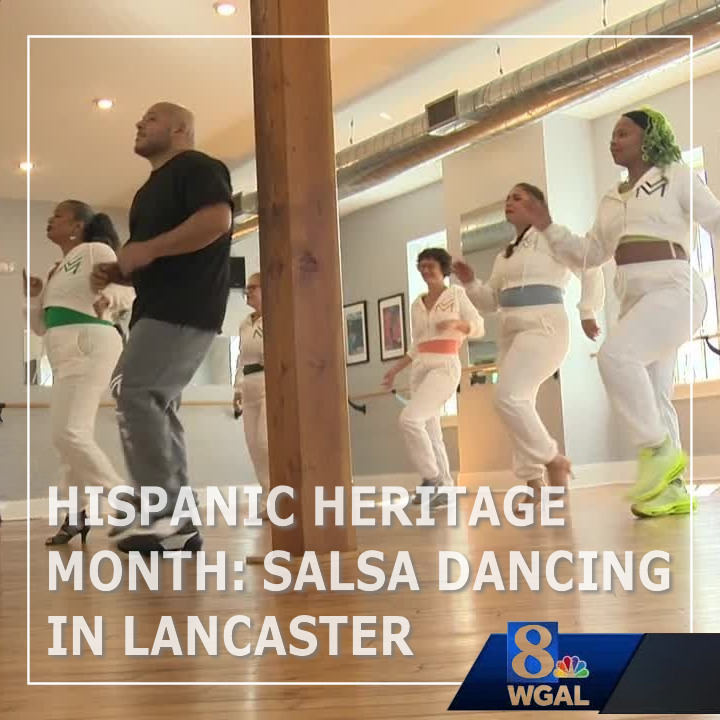 If you're looking for salsa dancing in Lancaster, PA, you'll want to check out Move it Studio!
In celebration of Hispanic Heritage Month, WGAL Anchor Paola Tristan Arruda recently visited Move It Studio to talk with teacher, Jasmin Pantoja, and studio owner, Marie Cleaves Rothacker.
Jasmin was born and raised in the Bronx, New York, where she learned and fell in love with New York Mambo (or Salsa) On 2. And now, you can learn it from her at Move It Studio. In addition to the salsa classes, Jasmine teaches mambo cardio and hip hop.
You can watch Mambo on Two live in November, as Jasmin will be directing the Latinx portion of the One World Festival with a mambo jazz routine performed by Move It Studio. She will also be teaching a free "Salsa on 2" lesson at the Hispanic Heritage Festival in Lancaster on Sept. 30.
During Paolo's visit to Move It Studio, she took some time to talk to Marie about how Move It Studio has the distinction of being one of the only Latinx-owned fitness and dance studios in the region.
Make sure and watch the video below for all of the details!
About Mambo On 2
Mambo (or Salsa) On 2 is a style of salsa developed in New York in the 1970's. With traditional salsa, the dancers take their break step on the first beat of the measure. Whereas with Mambo or Salsa on 2, they take the break step on the second beat of the measure instead.
Salsa On 2 is often referred to as Mambo. Mambo is a popular Latin dance, also danced on the 2nd beat of the measure.
Click the link below to check out all of the classes for salsa dancing in Lancaster, as well as all of the other exciting classes offered at Move It Studio.