Barre
Move It Barre classes are a fusion of ballet-based exercises and Pilates set to an eclectic mix of music. You might shake and burn in places you haven't worked before, but you'll leave feeling energized! No dance experience is required. Classes are designed to accommodate all fitness levels including prenatal and postpartum bodies.
move it barre
Move It Barre classes give you the fitness benefits of ballet without the constriction of a leotard and tights. This high-energy class blends basic ballet movements with Pilates and yoga-inspired stretching to tone muscles you never knew you had. No bobby pins or experience required!
move it barre cardio
Move It Barre Cardio takes all the elements you already love about Move It Barre and picks up the pace to increase your heart rate. This high-impact class combines barre movements, plus heart-pumping cardio for a calorie-burning combination.
move it barre stretch
Looking to increase your flexibility? Give those tight muscles a chance to breathe with Move It Barre Stretch. This class combines Move It Barre toning exercises to warm the muscles with extended stretching to get the lengthening effect every body needs. Personal attention is given to each client in order to safely stretch tight muscles.
prenatal barre
Barre Fitness is an amazing workout no matter what and one that can be easily modified while you're pregnant! This class focuses on safely strengthening the pregnant body, while preparing mom for birth and post-partum.
babywearing barre
Babywearing barre is a barre fitness class designed to support moms in getting a great workout, having fun with their baby, and connecting with other moms. This is a babywearing class open to moms with babies in the age range of 8 weeks to 12 months old. Babies should be able to be comfortably worn in a carrier with head support. Come workout, connect with your baby, and meet other moms!
Class Schedule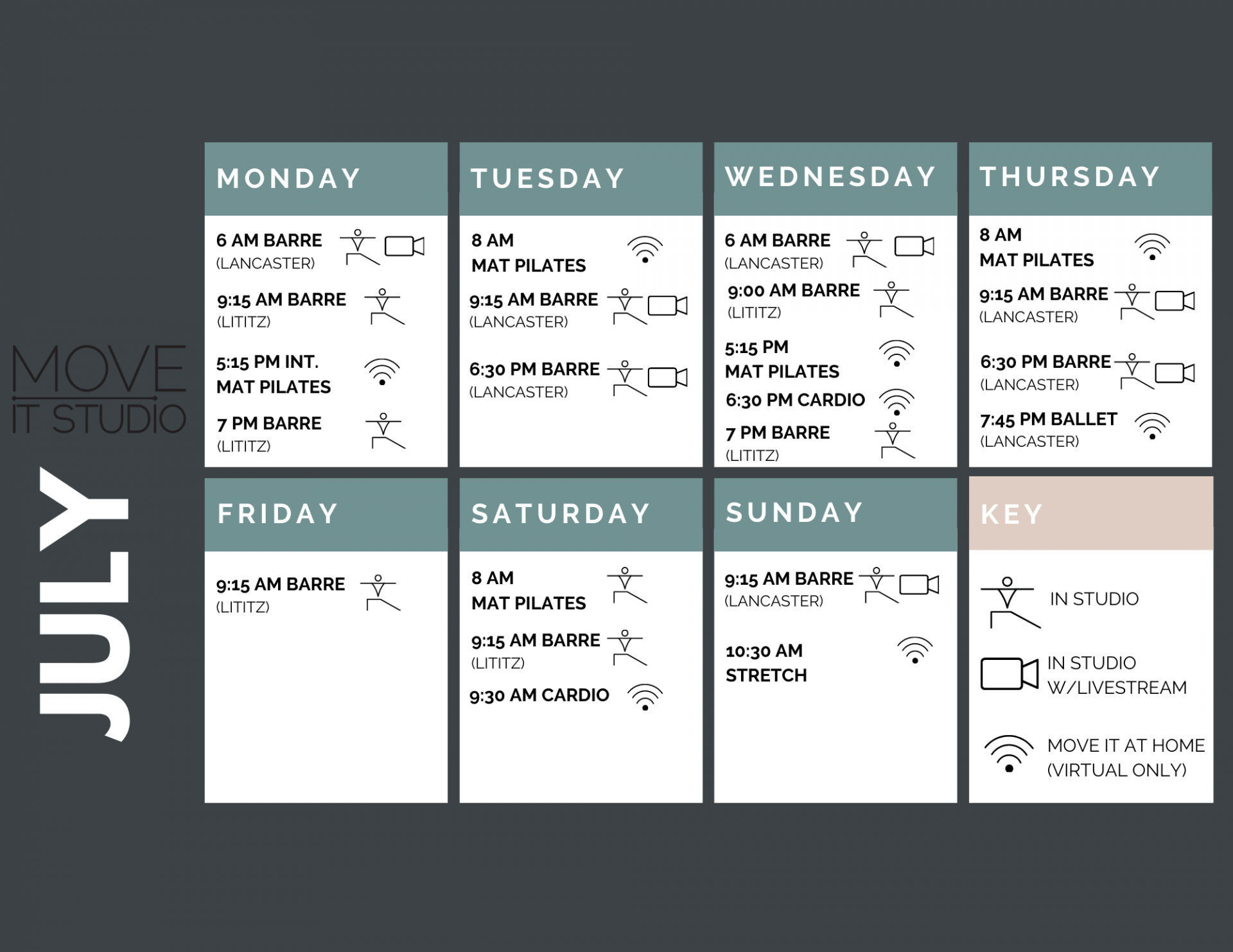 Non-Membership Options
3 Week Newbie Pass – [in studio + virtual – $49] / Single Class Rate – [Move It Barre & Mat Pilates – $24] / [Pilates Equipment – $38]
10 Class Pass – [Move It Barre & Mat Pilates – $199] / [Pilates Equipment – $339]
New Client Special – [Move It Barre & Mat Pilates – 2 Weeks Unlimited $49] / [Pilates Equipment – 3 Classes – $69]
Membership Options
We recommend taking at least 2-3 classes a week for maximum benefits and membership is the perfect way to help you make Moving It regularly a reality! Move It Members receive a significant discount on class rates, along with merchandise discounts and access to members-only events. Monthly membership offers the support you need in reaching your goals — and it makes you an official part of the Move it Family!