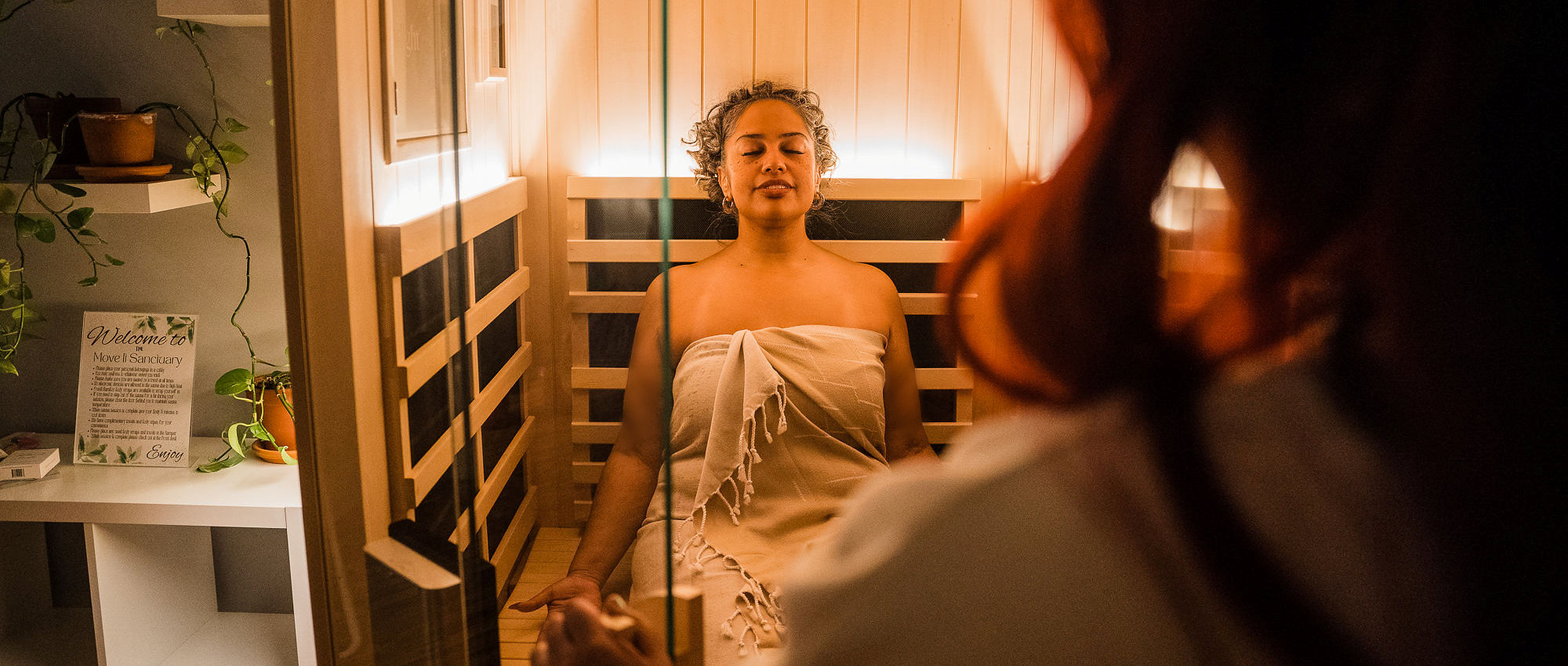 The latest in wellness is now at Move It Studio in Downtown Lancaster. Infrared saunas, popular in big cities, not only have social cred, their benefits are well-documented. Bringing an ancient practice to modern day, individual infrared saunas give you the flexibility of creating a wellness moment that fits into your lifestyle. The Move It Sanctuary offers a personalized sauna experience with a dedicated space for you to unplug, unwind, and refresh.
What's the difference between steam saunas and infrared? Steam rooms and saunas heat the air and create humid conditions that in turn heat the body. Infrared saunas produce the same infrared heat produced by the sun using advanced therapy with only a small percentage heating the air. This radiant heat increases the thermal energy in joints, muscles and tissues. This results in a deeper sweat and at a lower ambient air temperature. Infrared saunas usually operate between 115° – 135°F, while traditional saunas can get up to 195°F. The Clearlight® Infrared Sauna used at Move It offers full-spectrum infrared benefits (near, mid, and far).
Individual infrared sauna sessions in the Move It sanctuary include additional time to allow you to fully embody relaxation. With a meditation area, vanity station, and spa music, you'll be transported before even stepping into the sauna. Choose the chromotherapy you prefer, use the provided bamboo wraps, and take time to recover with fresh water immediately following.
Your Session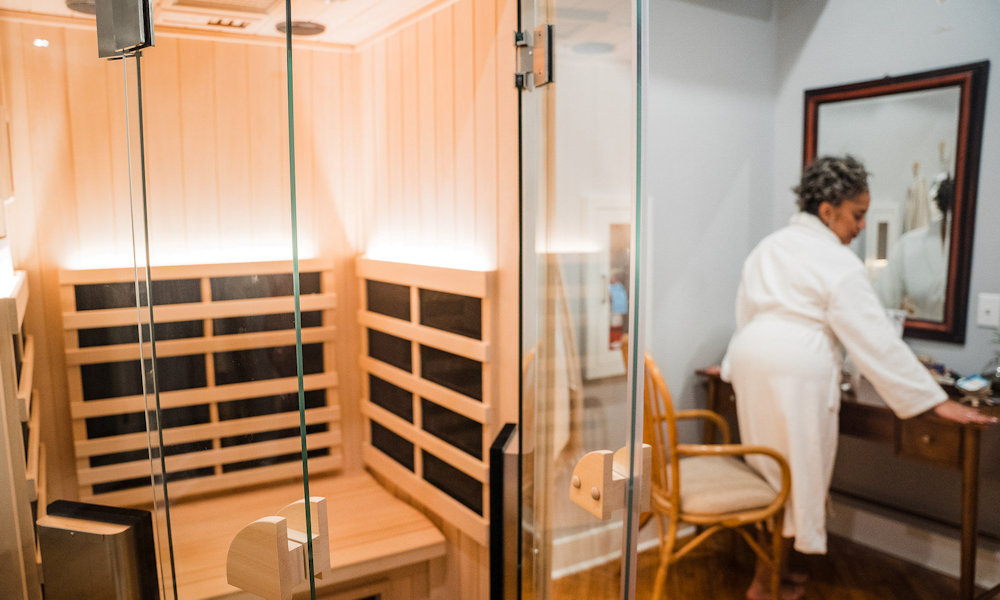 After checking in at the front desk, the sauna assistant will take you to the sanctuary. We include a brief orientation at your first session. We recommend using the bathroom at the studio before your session. The Move It Sanctuary includes cubbies for you to keep your personal belongings. A few notes:
We recommend using the biodegradable bamboo washcloths and towels provided PRIOR to entering the sauna. This helps to remove toxins and open your pores as well as keeping the sauna clean.
It is up to you what you wish to wear during your session. Most people prefer to disrobe and use a bamboo wrap (provided). We will always have a fresh towel on set up on the sauna bench for you. Robes are also available for your use and a hamper is provided for any items that need to be washed.
Your sauna assistant will help you set the chromotherapy to the color of your choosing.
Ambient spa music will be playing by default in the sauna. If you prefer a different genre, please let the sauna assistant know.
We encourage you to take time to make this a self-care ritual. We've provided a private room with a meditation area, vanity, essential oil diffuser, and candlelight. Each sauna session includes additional time for you to fully enjoy the experience.
Your sauna assistant will show you where the timer is. When it goes off, you have 5 minutes left to exit the sanctuary (but the vibes continue!).
Take breaks as needed, just close the door behind you to maintain sauna temperature. Make sure to hydrate after your session with the provided water.
Check out with the sauna assistant and provide any feedback so that we can include your preferences in your notes. The sauna assistant can also book another session for you before you leave.
We recommend sauna use 1-3 times a week for best results. This is not just a treatment, it's a mindful moment for you.
Medical Grade Chromotherapy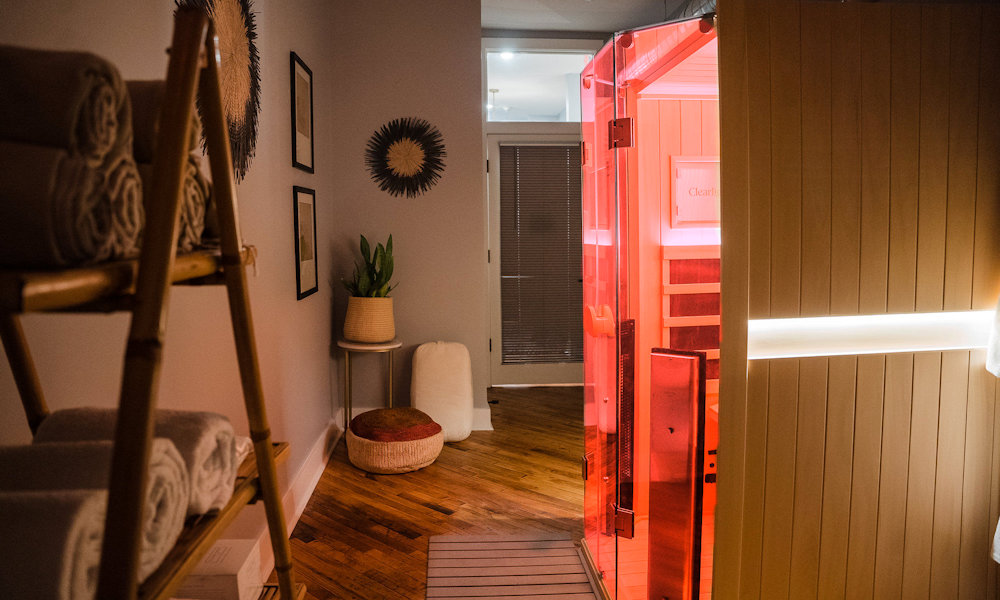 Color light therapy, also know as chromotherapy, dates back thousands of years. It's believed that applying colors to the body will help restore energy balance and healing. Our sauna provides medical grade chromotherapy. The 96 LED lights in the sauna are designed to output the correct color.
At your scheduled infrared sauna appointment, you will be provided a chart with the chromotherapy colors and the benefits of each. You select the color that you want to use during that session based on your preference that day.
Red:

Activates the circulatory and nervous systems.

Strong Green:

Provides anti-infectious, anti-septic and regenerative stimulation.

Strong Blue:

Lubricates joints. Helps address infections, stress, nervous tension.

Orange:

Energized and eliminates localized fat. Helps address asthma and bronchitis.

Green:

Acts as a relaxant.

Blue:

Stimulates muscle and skin cells, nerves and the circulatory systems.

Strong Yellow:

Strengthens the body and acts on internal tissue.

Strong Indigo:

Helps address eye inflammation, cataracts, glaucoma and ocular fatigue.

Strong Pink:

Act as a cleanser, strengthening the veins & arteries.

Yellow:

Reactivates and purifies the skin. Helps with indigestion and bodily stress.

Indigo:

Activates and eliminates impurities from the blood stream.

Violet:

Relaxes the nerves & lymphatic system. Addresses inflammation and urinary illness.
Sauna Benefits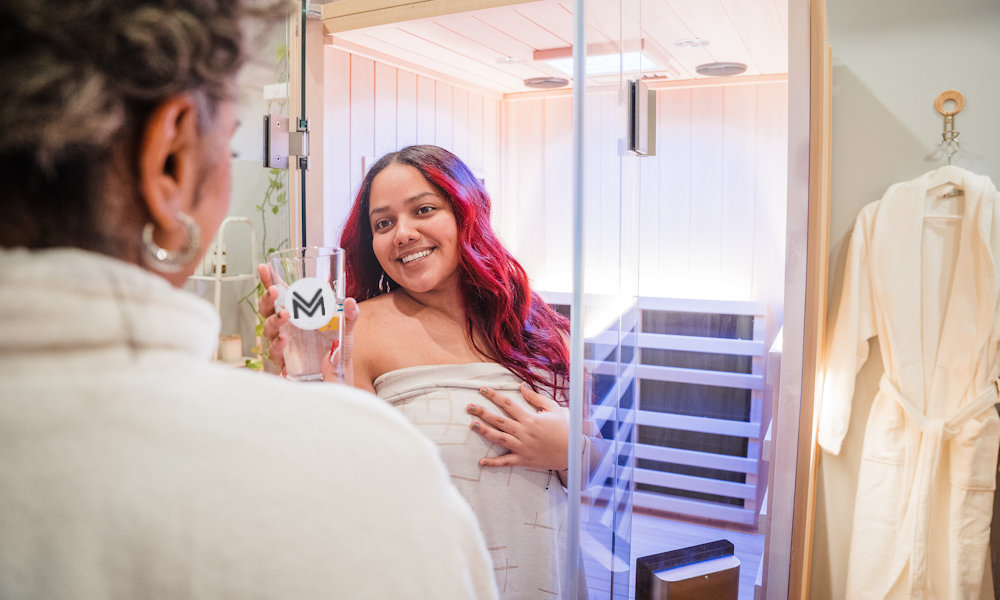 Heated therapy dates back thousands of years. Today, infrared saunas bring an ancient practice into a convenient treatment. Mayo Clinic and Cleveland Clinic recently published articles about the benefits of infrared sauna specifically. The full spectrum unit we use at Move It from Clearlight® Saunas gives your body and mind all of the therapeutic effects of sun, without the damaging UV rays. Our day to day life includes exposure to toxins. Infrared sauna gives the body a way to detoxify, resulting in many other documented benefits:
relief from joint and muscle pain
increased heart health
improvement in musculoskeletal disorders (arthritis and fibromyalgia)
fighting off illness
better sleep
increased metabolism and weight loss
improved skin
better sleep
stress and fatigue reduction
Make sure to check with your health care provider if you have any concerns about starting a heated therapy practice. Offering infrared therapy at Move It is a way for us to provide you with a holistic experience of movement, recovery, and rejuvenation. It's our way of giving you more space to focus on you and carry that energy into the rest of your life.
Pricing & Policies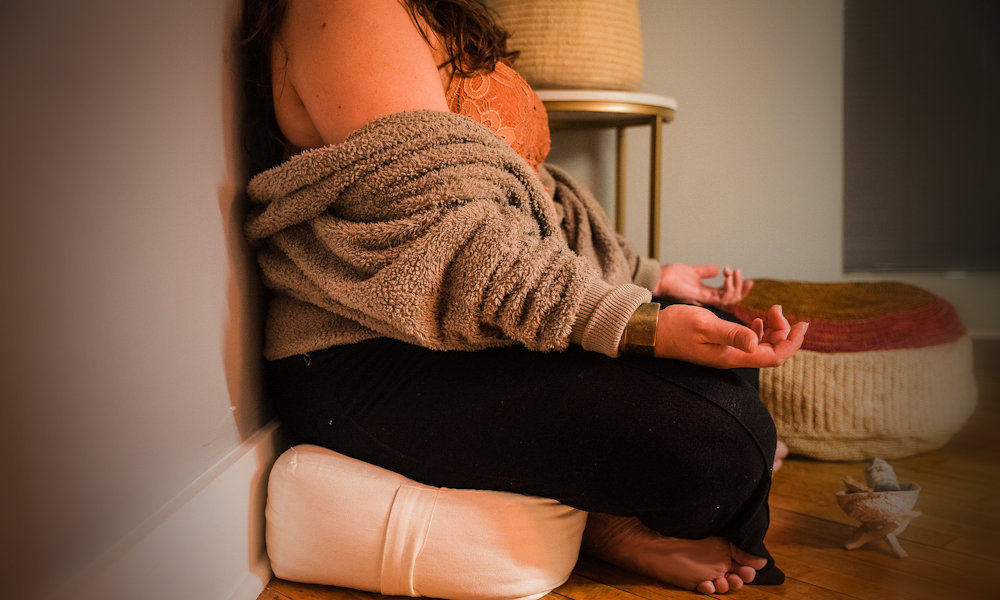 PRICING:
You do not need to be a Move It Studio Member to enjoy the benefits of an individual infrared sauna session. Men, women, and others are welcome as the session is private (we are gender affirming!).
Single Session Pricing:
20 minute session – $20
30 minute session – $30
45 minute session – $40
Sauna Memberships:
Unlimited 30 Minute – $99 per month
Unlimited 45 Minute – $139 per month
Holistic Unlimited Studio + Sauna – $179 per month
CANCELLATION POLICY:
We are committed to providing every client with smooth, stress-free experience. To make sure we are properly staffed, we ask that you make a reservation at least 12 hours in advance and cancel within that same window. If you need to cancel, please do so via the MindBody app under "appointments" or call the studio at 717-925-9970. The easiest way to make sure you book within the 12 hour window is to rebook when you're in for a session!
Stay Connected
(call, text, email)
GIVE YOURSELF SPACELET YOUR SOUL EXPLORESTAND IN THE GREATNESS THAT YOU AREHONOR YOUR BODYBE PRESENTFIND YOUR OWN THINGFEEL ACCOMPLISHEDHONOR AND LOVE YOURSELFYOU ARE MORE THAN A WORKOUTYOU ARE ENOUGHDO THE HARD WORK IN THE COMMUNITYYOU ARE A MULTIDIMENSIONAL WARRIORGIVE YOURSELF SPACELET YOUR SOUL EXPLORESTAND IN THE GREATNESS THAT YOU AREHONOR YOUR BODYBE PRESENTFIND YOUR OWN THINGFEEL ACCOMPLISHEDHONOR AND LOVE YOURSELFYOU ARE MORE THAN A WORKOUTYOU ARE ENOUGHDO THE HARD WORK IN THE COMMUNITYYOU ARE A MULTIDIMENSIONAL WARRIORGIVE YOURSELF SPACELET YOUR SOUL EXPLORESTAND IN THE GREATNESS THAT YOU AREHONOR YOUR BODYBE PRESENTFIND YOUR OWN THINGFEEL ACCOMPLISHEDHONOR AND LOVE YOURSELFYOU ARE MORE THAN A WORKOUTYOU ARE ENOUGHDO THE HARD WORK IN THE COMMUNITYYOU ARE A MULTIDIMENSIONAL WARRIOR