Pilates
With a focus on breath, flow, balanced muscle development, and coordination, Pilates is an innovative and safe system of mind-body exercise. Using a mat or a variety of equipment, this form of exercise develops core integration for a full-body workout. Today, many are familiar with Pilates because of its popularity with dancers, models, and actresses. But you don't have to be any of those to enjoy the balancing effects of Pilates. Move It Studio offers excellent Pilates instruction in a supportive and uplifting environment. Not sure where to start? Click here.
mat pilates (traditional)
Mat Pilates emphasizes proper breathing, correct spinal and pelvic alignment, and concentration on smooth, flowing movements. Pilates conditions the whole body, training several muscle groups at once in smooth, continuous movements. By developing proper technique, you can actually re-train your body to move in safer, more efficient patterns of motion – invaluable for injury recovery, sports performance, good posture and optimal health
mat pilates (Move It)
Maintaining the principles of Pilates, this class is designed to flow from one exercise to the next using the mat and a variety of props. Each exercise is choreographed with the music to give clients a new perspective on Mat Pilates exercises. It's Pilates, the Move It way.
pilates equipment (beginner)
Beginners, new to the studio, returning after an injury or time off? This is for you. In this class students are introduced to the basics of the traditional reformer work while developing a familiarity to the equipment.
pilates equipment (beginner/intermediate)
This class will flow through the traditional reformer repertoire while integrating intermediate level where appropriate for the entire group. Students will develop strength and balance as they learn new skills on the Reformer. This class is well-paced and very doable for all levels.
pilates equipment (intermediate)
For students with some experience on the reformer. This class incorporates more rhythm, dynamics and flow through transitions. Building the stamina and breath capacity required for this level as well as learning some of the more advanced exercises. Students should be comfortable working with the equipment and able to modify as needed to get the full benefit.
Class Schedule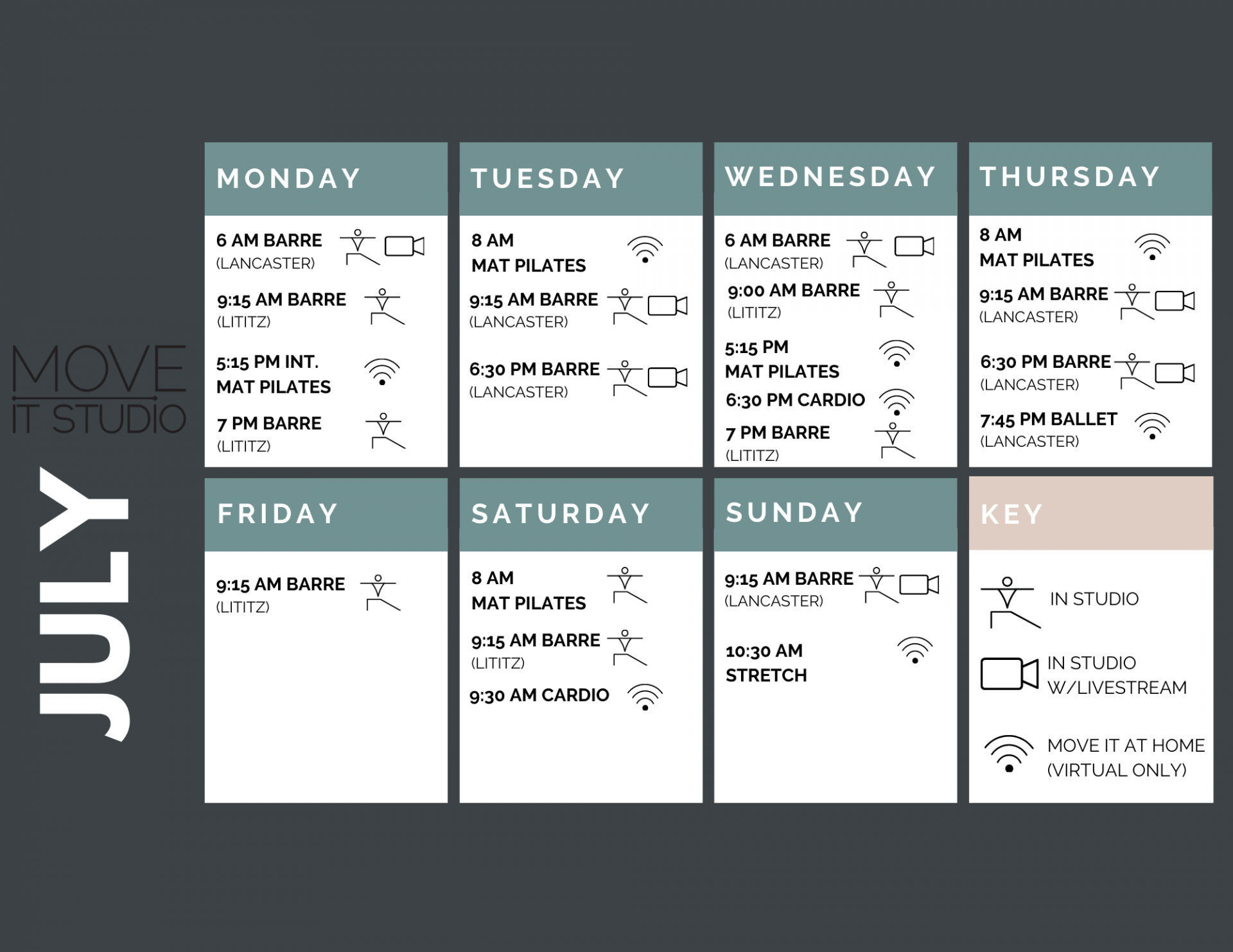 Non-Membership Options
3 Week Newbie Pass – [in studio + virtual – $49] / Single Class Rate – [Move It Barre & Mat Pilates – $24] / [Pilates Equipment – $38]
10 Class Pass – [Move It Barre & Mat Pilates – $199] / [Pilates Equipment – $339]
New Client Special – [Move It Barre & Mat Pilates – 2 Weeks Unlimited $49] / [Pilates Equipment – 3 Classes – $69]
Membership Options
We recommend taking at least 2-3 classes a week for maximum benefits and membership is the perfect way to help you make Moving It regularly a reality! Move It Members receive a significant discount on class rates, along with merchandise discounts and access to members-only events. Monthly membership offers the support you need in reaching your goals — and it makes you an official part of the Move it Family!