Beyonce Bingo with Quacey's & Move It Studio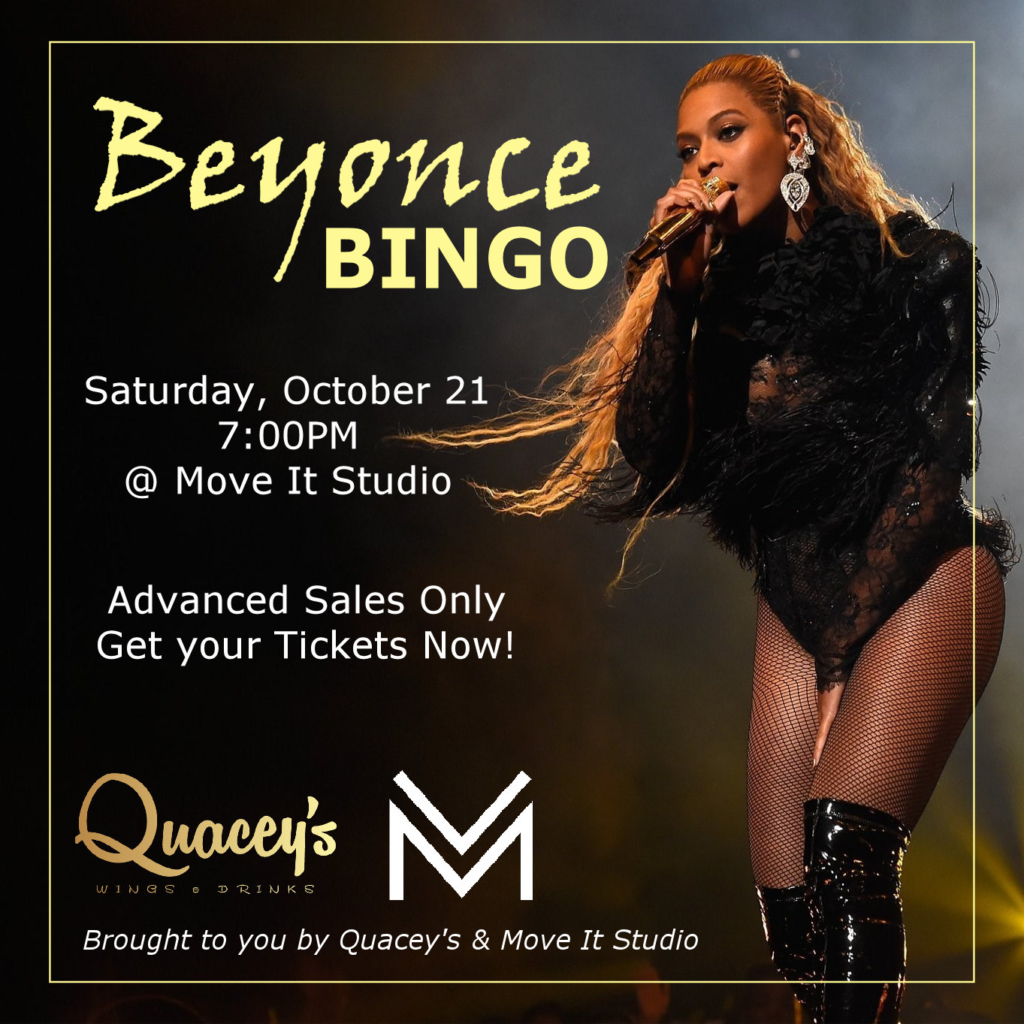 Prepare for a Bootylicious Bingo experience like no other!
Come on out for Beyonce Bingo on Saturday, October 21st. Move It is joining forces with Quacey's traveling bar for an unforgettable Beyonce-themed night of prizes, games, and giveaways at Move It Studio (33 N. Market St., Lancaster).
Doors open at 7:00PM and Bingo starts at 7:30PM.
Your $40 ticket includes:
Two Bey Influenced Bingo Cards
Lots of Chances to Win Prizes
One Drink
Light Bites (additional food for purchase from Chef Wilson Lopez of Per Diem)
A full playlist of Beyonce hits!
Hey all you Bingo Ladies (and men) … tickets are Pre-Sale Only, so don't miss your chance to Slay it!
About Your Hosts
Move It Studio
Move It was born out of a lifetime of experience. Studio owner, Marie, took all of the things she loved most about the dance world and put them into Move It Studio. You'll notice right away that we are different. We don't focus on looking a certain way or weight loss. We are about energizing your life and we want you to leave every class feeling rejuvenated.
Our studio faces Lancaster Central Market, in the midst of all the action you love in downtown Lancaster.  Our studio is open, airy and meant to inspire you. It offers a luxurious, boutique experience. We want you to tell your friends you're going to your daily self-care getaway, not trudging along to the local gym you feel forced to go to. You want to love where you live, why not love where you choose to workout? 
Read More About the Move It Studio Story >>
Quacey's
Quacey's is a mobile catering/bartending company based in Lancaster County, PA. They are mixologists, specializing in handcrafted signature cocktails. Their signature cocktails pair well with their special Quacey's Wings.
Catering/Bartending packages can include the services of food, drinks or BOTH! Plus they do delicious mocktails for alcohol-free events.
Quacey's Wings & Drinks is fully certified (RAMP & Servesafe Food & Alcohol, as well as fully insured in Liquor & General Liability). This makes them the perfect choice to create a memorable event for whatever you need.