Spring is Blooming at Move It
Who else is happy to see the sun? There are lots of fun ways for you to connect with Move It this month and I am here for it all. In case you haven't been in studio, we welcomed Evita Colon from Speak to My Soul to the office space next to the big studio in April. Check out the Move It Co-op page to find out more about the amazing local experts we're partnering with. Speaking of, we recently hosted the first Move It Barre Teacher Training since 2020! The weekend was enriching and rejuvenating and featured Pamela Vail, Professor at Franklin and Marshall College, along with myself, Deb Nehlig (Pilates Teacher/Expert), and Marianne Brobst. Now the fun begins! Part of the trainee apprenticeship includes both observing classes and assistant teaching. So get ready to cheer on these trainees. I'm already enjoying having the new energy Arianna, Erin, and Emory are bringing.
Lastly, a belated welcome to Mat Pilates teacher Ellen Zeswitz. A graduate of the classical training we partnered with Body Precision Pilates to offer, Ellen works full-time as a registered dietician in addition to teaching. Check out her class Saturdays at 10:30 AM.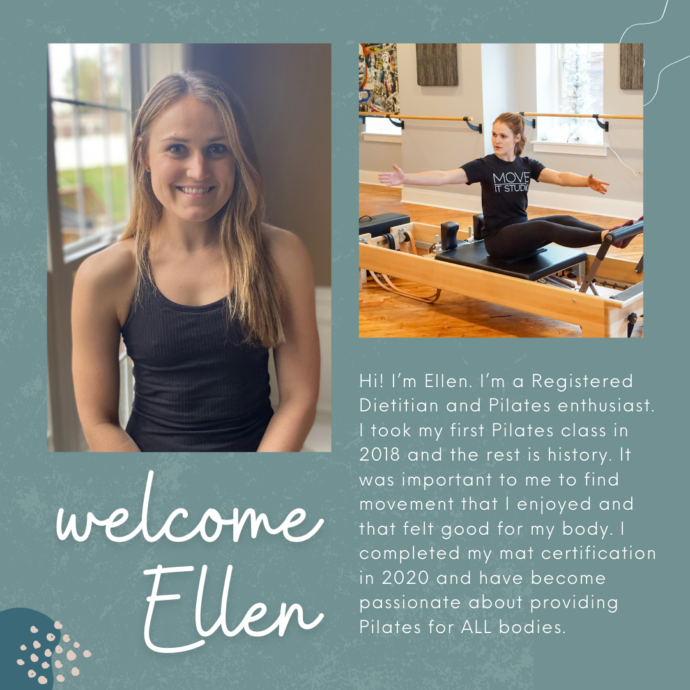 Every week, I start my Monday morning with an online gratitude meditation through Heal Haus. It's a time set aside to focus on what we have to be grateful for and to raise the collective vibration. With all of the swirling events happening across the ocean and in our own backyard, it's not always easy to acknowledge the good. Please know, we hold space for both the struggle and the celebration here at Move It. And I personally am continuously grateful for the studio and all that makes it thrive. Remember, when you support Move It, you support love. We put it into everything we do and we hope you feel it. In fact, it's our mission to energize your body, mind, and spirit. See you soon.
Best,
Marie